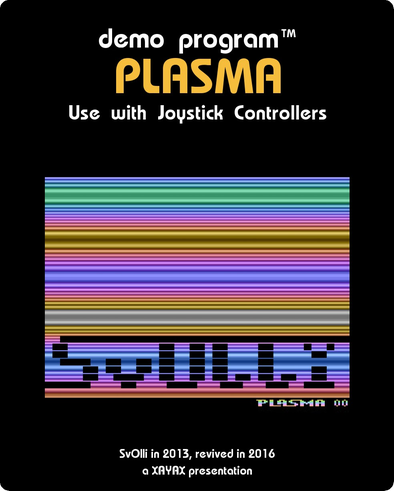 Plasma - An Atari 2600 VCS Demo
---
Release: Nordlicht 2016, 7th place in Gravedigger compo.
---
View in emulator running in web-browser: Stellerator
---
Downloads
---
Credits
SvOlli:

code and all the rest
---
Instructions
This demo contains just one effect with 256 variations, like the early VCS games also has quite a couple of variations. It was coded to test production of a cartridge on AtariAge. Valuable lesson learned: the old style cartridge label look better than the new style (silver) ones. Controls are:
Left difficulty switch: 50/60 Hz
Right difficulty switch: PAL/NTSC color palette
Color/BW switch: enable/disable sound
Select button or left joystick up/down: select high nibble (effect type)
Start button or left joystick left/right: select low nibble (seed type)
Left joystick fire button: automated effect and seed type switch
Right joystick fire button: easter egg (showing only on effect type 0)
Note: This demo is SuperCharger compatible.
---
Discussion
---
Screenshot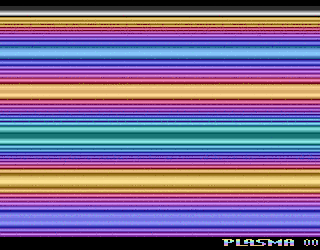 ---